ABOUT US
We are a UK based, family-run company specialising in high quality, stylish and durable kitchen knives designed for Amateurs and Professional alike. Whether you're looking to up your domestic culinary game or kitting out a professional kitchen, we offer top-end kitchen knives at affordable prices allowing everyone the opportunity to excel in the kitchen.
We strive for excellence and will never compromise on quality which means we source the highest grade materials for all of our kitchen knives and knife sets.
We offer a full customer support team ready to answer any question you have. If for any reason, you are not happy with your purchase we offer a 30-day no-quibble money-back guarantee, along with a full lifetime manufacturing warranty. Welcome to KOI Artisan.
Why we are best at what we do?
Established in 2016, KOI Artisan brings several ranges of knives that are recommended by many great chefs from around the world.
Based in Wiltshire, UK, KOI Artisan sources all blade materials from suppliers in Japan, from here we export to China where the handles are assembled and the boxes are constructed. Each knife is handcrafted ensuring the highest quality and workmanship. It takes years of experience to create the perfect blade, this craftsmanship reflects in each one of our knives.
Here at KOI Artisan, our mission is simple; we want to open up the specialised knife market to everyone. We want to offer and make accessible the highest quality chef knives to chefs and aspiring chefs at all levels. We deal directly with the general public allowing us to offer the best prices rather than going through various sales channels and additional costs being incurred.
Our main focus area is the quality of our knives and our customers. Customer feedback is in place for us to constantly improve the quality of our service. Every comment is looked at and acted upon if necessary. Our objective is to treat all new and existing customers with the highest possible level of service.
We have customers ranging from Chefs at Five Star restaurants in London, Cape Town and Los Angles to Beach restaurants in Kho Phangyang in Thailand, coupled with a large following from those who just "love to cook" whether is a passion or profession, we cater for everyone.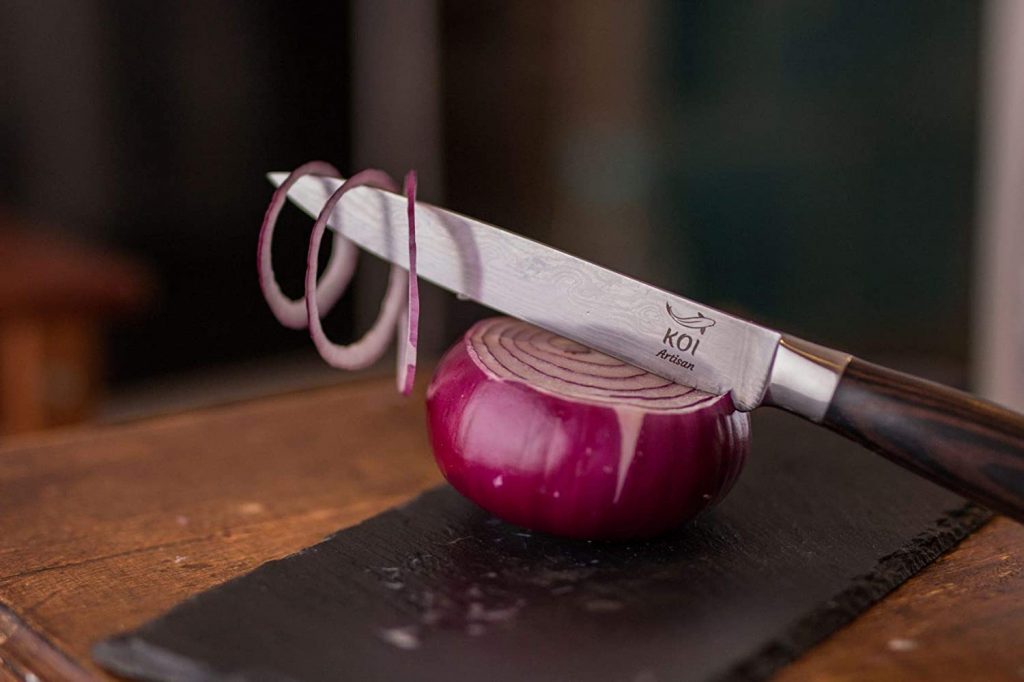 Guarantee to you
When you buy a KOI Artisan knife you become one of our valued customers. We take the utmost pride in offering our customers the best service possible. Staff are on hand to help!
We offer a 30day no-quibble money-back guarantee should you change your mind and a further lifetime Manufacturing defects Warranty on all KOI products offering full peace of mind through the buying process.
All Knives approved by FDA, LFGB and SGS.